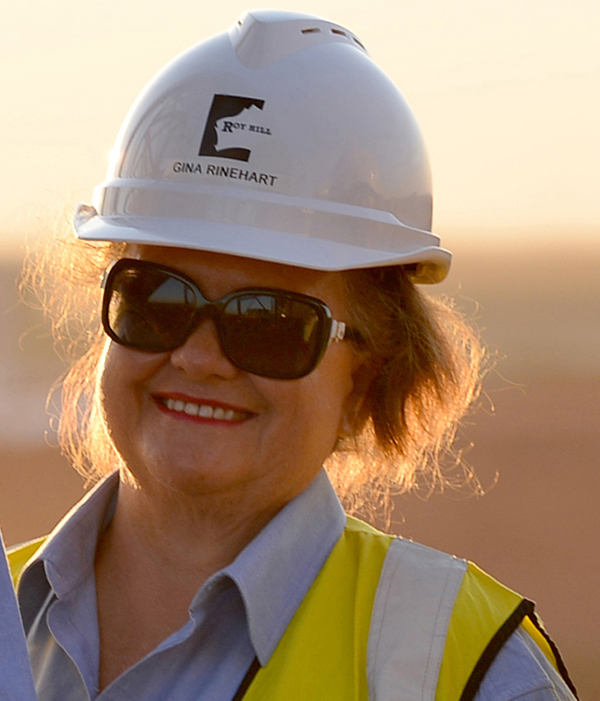 Executive Chairman of the Hancock Prospecting Pty Ltd & Roy Hill
Founder & Patron of National Mining and Related Industries Day
November 22nd marks National Mining and Related Industries Day. This annual day was first launched in 2013 to celebrate the enormous contribution of our mining and related industries, and to remind those in the mining industry to be proud of their industry, and to stand up for it constantly.
Mining is essential to Australia. In 2018-19, iron ore and coal were our country's largest two exports, valued at $146 billion, and the Australian mining and energy sector accounted for 21% of Australia's GDP growth and 75% of Australia's goods exports. From 2005 to 2018, the resources sector has invested approximately $720 billion in Australia, being 40% of all investment over this period.1
Mining and its related industries are at the forefront of underpinning Australia's living standards. Since 2005, direct employment in the resources sector has more than doubled and in May 2019, there were 247,000 people employed by the mining sector. If we take into account its related industries, over 1 million Australian's owe their livelihoods to mining, with many others benefiting too.1 2
"National Mining and Related Industries Day is also a day for all Australians to consider: "where would our nation be without the mining industry?"
Speech by Mrs Gina Rinehart
Inaugural National Mining & Related Industries Day, 22nd November 2013, Brisbane.

In some parts of Australia there are people who are anti-mining, but those who are anti-mining should take a moment to consider – without mining and its related industries, who would fill the huge gap to support our defence forces, police, fire fighters, roads, other transport infrastructure, hospitals, aged care and more, and who would be giving our regional and remote communities employment and other opportunities? And while considering, try to remember the little publicised fact, that with governments overspending, Australia is in record debt, having to borrow more money just to meet its interest bills!
So there is not cash in the kitty to help provide instead for all that mining and related industries currently contribute. Do Australians really want higher electricity costs, which in turn would impact and increase other costs, if we are left with more expensive and less reliable options such as wind, and to import commodities at higher costs that are required to make power generation available, if we do not mine such commodities essential for generating power?
In 2016-17, the Australian minerals sector paid $12.1 billion in company tax and $11.2 billion in royalties to our governments and was the second-largest contributor to company tax revenue.2
What would we spend less on if the mining industry was not making its huge contributions – less police, less kindergartens, less aged care, less defence, or?
The mining industry is also an industry that is at the forefront of innovation and one that our regional communities rely on – building and sustaining many country towns, offering employment in remote areas where otherwise employment opportunities are scarce.
Technical innovations in the mining industry can be used to benefit other industries, such as in agriculture, utilising digitalised communications and drones trialed in the mining industry, and in the services industry. National Mining and Related Industries Day was founded by Mrs. Gina Rinehart, Executive Chairman of the Hancock Prospecting Group and Roy Hill, who also serves as Patron of the day. The inaugural National Mining and Related Industries Day event was held in Brisbane (2013) and subsequent events have since been held around Australia including Darwin (2014), Port Hedland (2015), Mount Isa (2016), Melbourne (2016), Sydney (2017), Canberra (2018) and this year it will be held in Perth.
"We are an industry that not only contributes significantly to national and state taxation revenues, but one that is innovative and one that provides opportunities to many."
"Mining is one of our country's most significant and necessary industries. Without mining you wouldn't have the 35 different minerals available that make up your mobile phone."
"The mining industry is at the forefront underpinning Australia's prosperity and living standards."